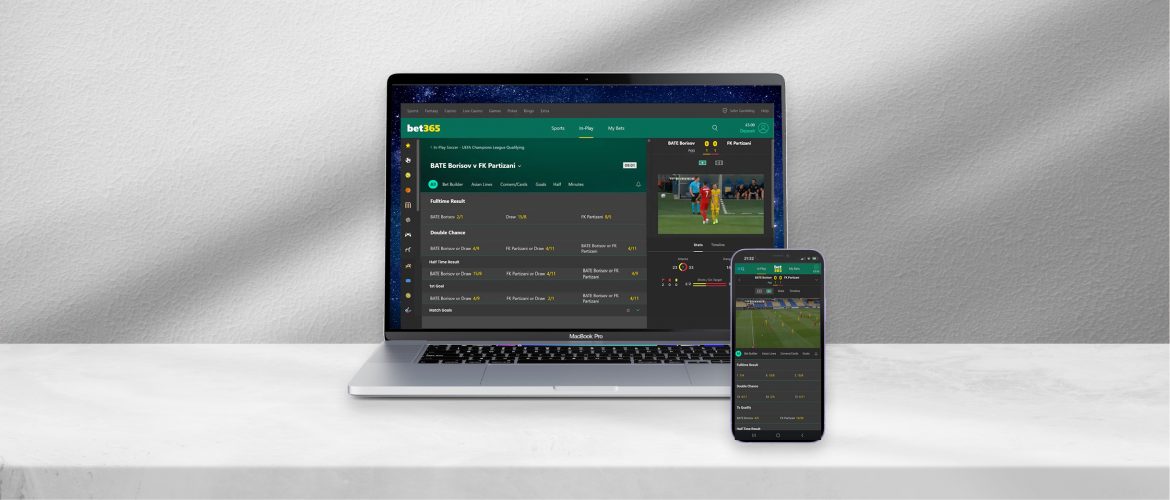 bet365
bet365 Implements iGameMedia's Ultra-Low Latency Streaming Solution
Client Profile:
Client Name: bet365
Industry: Online Gambling, Sports Betting
Location: Headquarters in Stoke-on-Trent with offices in Manchester, Gibraltar, Malta, Bulgaria and Australia
Project Overview:
In a transformative project, bet365, the world's largest sportsbook, partnered with iGameMedia, a leader in B2B ultra-low latency solutions, to revolutionise their in-play betting product. In collaboration with THEO Technologies' HESP protocol solution, iGameMedia's ONEPlatform API has allowed our client to achieve sub-second streaming latency for their content.
The goal was to enhance user experiences by eliminating streaming delays and empowering bettors to make informed betting decisions. This ground-breaking solution showcased bet365's dedication to staying at the forefront of innovation, promising an unmatched, immersive betting experience for its global audience.
Challenges:
In the dynamic landscape of online sports betting, bet365 encountered several critical challenges associated with the traditional sports streaming approach using HLS. These challenges necessitated the adoption of a revolutionary ultra-low latency (ULL) streaming solution to enhance the in-play betting product for its customers.
In response to these challenges, iGameMedia recognised the importance of embracing a commercially viable ultra-low latency solution, and through our collaboration with THEO Technologies, we embarked on a transformative journey to redefine the in-play betting experience for its global audience.
The primary challenges included:
Latency impact on betting decisions: The industry standard HLS with an average latency of 7 to 9 seconds created significant delays between the live data events and their corresponding video streams, affecting the overall live experience for bettors.
Diminished user experience: The high latency of the traditional streaming approach resulted in a disconnect between real-time pricing and data feeds against the video stream, leading to a less immersive and less engaging in-play betting experience for customers.
Competitive disadvantage: In the fiercely competitive sports betting market, bet365 needed to distinguish itself from other operators by maximising their in-play betting product.
Technical scalability: Ensuring seamless and reliable streaming at scale for millions of customers across 160 countries posed technical challenges, requiring a solution capable of handling heavy traffic, and delivering real-time content without disruption.
iGameMedia's Solution:
In addressing the challenges posed sports streaming landscape, bet365 turned to the expertise and innovation of iGameMedia. our collaborating with THEO Technologies, iGameMedia played a pivotal role in the development and implementation of a cutting-edge ultra-low latency streaming solution, tailored specifically for bet365's in-play betting product.
The key solutions implemented by iGameMedia included:
Key enabler – THEO Technologies' HESP Protocol: iGameMedia, in collaboration with THEO Technologies, leveraged the High-Efficiency Streaming Protocol (HESP), a revolutionary technology that enabled real-time streaming with sub-second latency. This breakthrough protocol, integrated with iGameMedia's solutions, was instrumental in achieving the desired ultra-low latency at a scale and cost acceptable to the industry.
iGameMedia's ONEPlatform – Seamless Integration: iGameMedia's innovative ONEPlatform played a vital role in ensuring seamless integration with leading sports rights holders and providers. The platform's single content API aggregation solution streamlines the content delivery process.
Enhanced User Experiences – Perfectly Synced Video and Data: With iGameMedia's ONEPlatform and THEOLive in place, iGameMedia enabled bet365 to offer its customers perfectly synced video and data streaming experience for its content, targeting improved user retention, longer viewing time and engagement.
Setting New Industry Standards: Through its partnership with iGameMedia and THEO Technologies, bet365 has led the initiative within the sports betting industry, with iGameMedia making ULL the new default solution across the industry.
Conclusion:
bet365's strategic collaboration with iGameMedia and THEO Technologies has propelled the sports betting industry into a new era of real-time, ultra-low latency streaming. By adopting this ground-breaking solution, bet365 has cemented its position as a global leader in online sports betting, offering the best in-play customer experience in the market. 
As bet365 continues to embrace cutting-edge technology, bettors worldwide can look forward to an unparalleled betting experience that sets new industry standards for speed, efficiency and user satisfaction.